We want to thank Celi and John from The Kitchens Garden ( http://thekitchensgarden.wordpress.com/ ) for sharing their story last week of their beautiful "farmy" on the Praries of Illinois. I think everyone enjoyed hearing about Mia, Ton-Ton, Daisy and all of the other wonderful animals – thanks so much Celi and John!
We travel to Canada this week and into Southern Ontario for the story of Marie and her husband, who own and run Milllview Farms. Marie's blog, Plowing in Pearls ( http://plowinginpearls.com) chronicles their life where in addition to growing cash crops, they raise meat and eggs in a natural and sustainable manner.
To follow along each week with our Sunday feature "Tell Us Your Story", you can simply enter your email address on the right of our blog and click "follow". Better yet – if you know of a farm that would make a great feature story, click on our "Tell Us You Story" tab and let us know all about it!
So here, in Marie's words – the story of Millview Farms :
I want to thank Jim and Mary for putting this series together. It's such a great opportunity to share, and get to know other like-minded people! My name is Marie, and I write a blog called Plowing in Pearls, which chronicles my "amazing life as a farmer's wife." My husband,myself, our son, and our home.
My husband and I run a cash crop farm in Ontario, Canada. I'm a mother to a beautiful son, and am passionate about sustainability, homemaking, homesteading, and connecting with a way of life from years gone by. Although my husband has farmed his whole life, it's completely new to me, and the learning curve has been a steep one. I like to think I've picked up pretty quickly though.
Here on our farm, we raise chickens, turkeys, and pigs for our own use as well as for sale to the public. I raise all my animals with respect, and in a way that allows them to exercise their natural tendencies. We use no hormones, preventative antibiotics (meaning they aren't given antibiotics to prevent them from getting sick, like commercial producers, but I will medicate a sick animal if nothing else works) or growth hormones. Raising livestock in a respectful way is something that is very important to me, and this year we will be adding two rare breeds – the Large Black pig and Blue Slate turkey to our menagerie.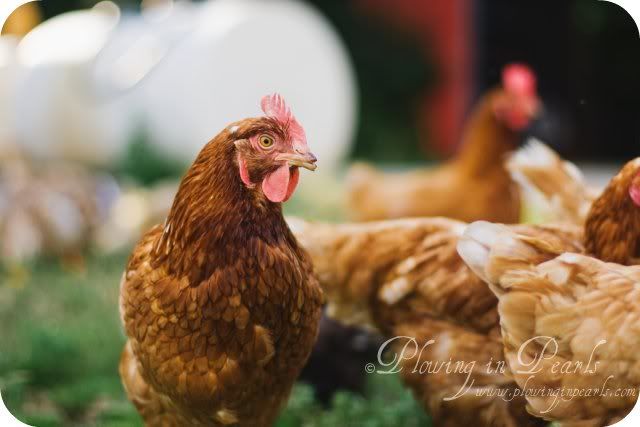 Chickens are my first love. I have many (many) breeds, from standard to heritage. All are free ranges, and we just love all the beautiful eggs they supply for us. Since my love borders on obsession, we have around 50 hens which provide us with more eggs than we could ever eat. The extra eggs go in to a fridge by our front door and we've developed quite a following of people looking for those golden yolks that can't be found in the grocery store.
Although we raised our turkey's on free-range last year, we learned that turkey's "range" is quite a bit further than chickens. I spent a lot of time herding them off the road and out from underneath the cars of visitors. This year we will be implementing the "Turkey tractor" to keep them contained, while still allowing them the benefits of free-ranging.
We also keep a few "just for fun" animals, including our duckies (although they do lay eggs, so they kind of pull their own weight ;))
I'm also taking on a new challenge in homesteading this year, and that's milking my own goat. Maebelle hasn't kidded yet, but I've been getting her used to the stanchion I built, and the routine of feeding. My biggest mistake with Maebelle however, was that she has never been milked before, and she wasn't hand raised, so she is not a fan of being touched. Let's just say it's has been an adventure getting to this point, and I think the party is just getting started. I'm sure there will be lots of spilled milk and tears, but I'm determined to make it work.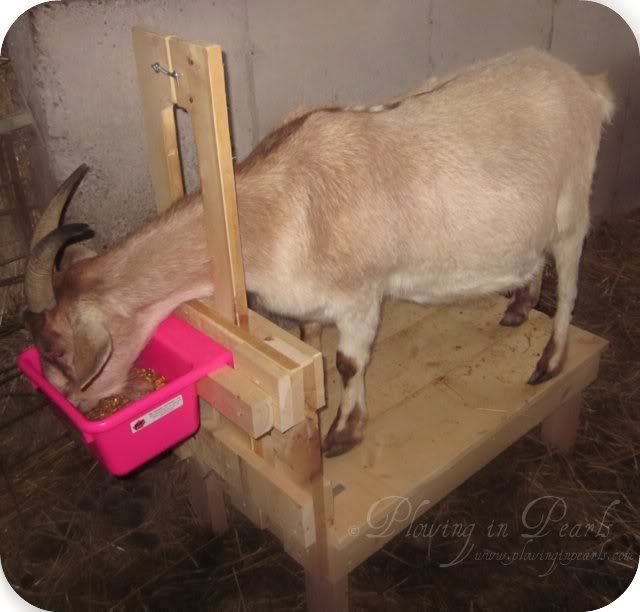 Although I love all my animals very much, there is one in particular that holds a special place in my heart, and that's Pearl, our beautiful donkey. Pearl is the most affectionate, and gentle creature I've met. I've spent a lot of time with Pearl, crying in frustration when it feels like the world is against me, or enjoying a beautiful sunset after a long day, it doesn't matter what my mood is, Pearl is always the same – sweet, gentle, and loving.
My dreams for our farm include the on-farm market we will be opening this spring. At the moment we sell eggs out of a fridge by our front door, but my goal is to have a designated place to sell not only eggs, but pork, chicken, and turkey as well. My Mom and my sister will be joining in this venture by growing cut flowers (glads, zinnias, Salvia and sunflowers ect.) Although it's been years since I worked in the retail/fashion world, I still maintain my eye for all things esthetically pleasing, and I love all things vintage, rustic and girly (which is part of the reason my blog is entitled Plowing in Pearls) so I really see this stand as being something that could have been pulled from a story book.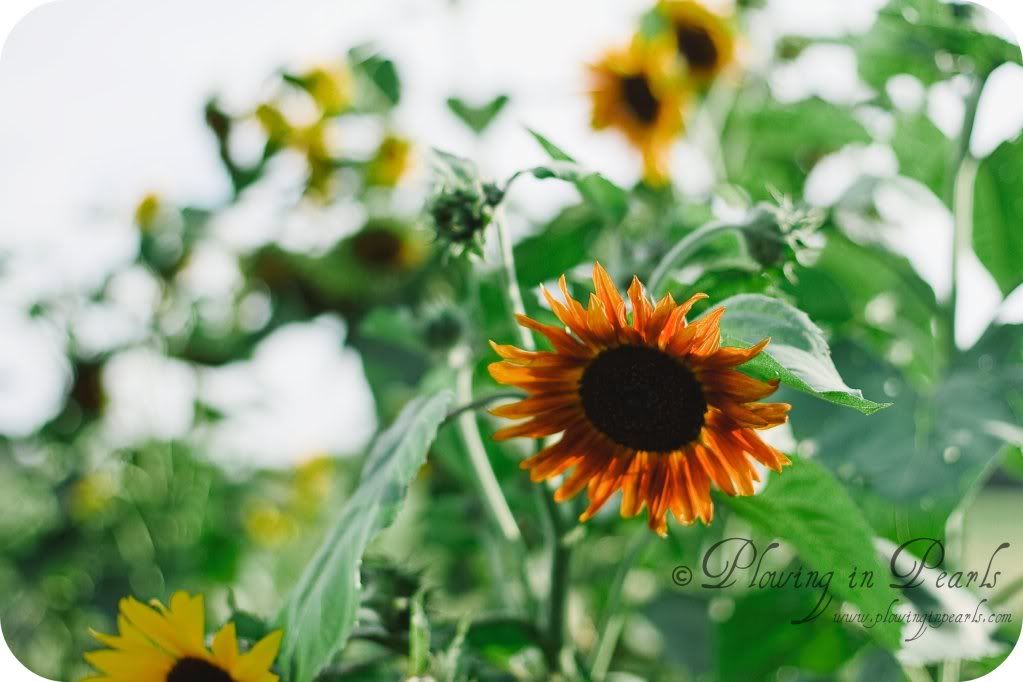 My husband and I are so blessed to have the opportunity to live on and care for this land, and it's not a job we take lightly. We would love to see our son be the fourth generation to live and farm here, with his own little "zoo" of critters. For the time being though, we'll enjoy raising him in the best environment I can imagine. There's no better way to raise a child than out in the sunshine and dirt where they can burn energy, learn the value of hard work, and play with real toys (i.e. sticks and mud!) not Nintendos and iPhones. This simple life is perfect for us and we're so glad to be able to share it with anyone who is interested.
If you'd like to see a bit more of our farm and our life, please feel free to stop by the blog at www.PlowinginPearls.com, or our farm website at www.MillviewFarms.com
Meet Millview Farms from Ontario, Canada – This week's "Tell Us Your Story"